A recent survey published in the journal PLOS ONE has documented large-scale opposition to deforestation among villagers across Borneo, who cited concerns over increasing temperatures and air and water pollution as main reasons for the objection. Read more below.
Read more from Mongabay

Read more about Forest Policy in Borneo and then join the discussion on Facebook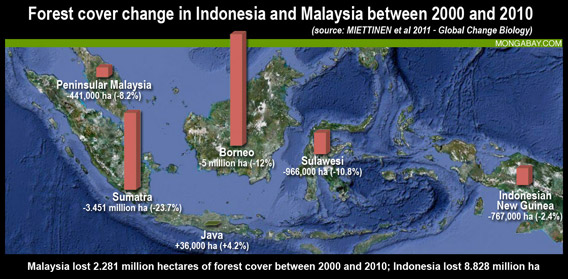 Nearly two-thirds of villagers surveyed across rainforests in Indonesian and Malaysian Borneo are against large-scale deforestation due to the adverse impacts on livelihoods and the environment, finds a comprehensive new study across 185 communities. The research, conducted over a one-year period by an international team of scientists, is published in this week's issue of the journal PLOS ONE.
The study found that people who live near forests place the greatest value on the benefits they afford, including medicinal plants, game, clean water, and fiber.
"We found that 65 percent of the villagers interviewed throughout Borneo were against large scale clearing of forest because of the negative impacts it generates on their community, for their income, the environment and their access to forest products," said lead author Erik Meijaard of the Borneo Futures initiative, a new collaborative research project, in a statement. "Besides medicinal plants the majority of communities in Borneo have and continue to use the forest for a wide range of products from subsistence hunting and fishing to timber, mining, geharu, and illipe nuts."
Location and geographic context of villages sampled in primary and secondary surveys in Indonesian and Malaysian Borneo.
The research, which is based on responses from 1,837 Borneans, found that opinions on deforestation were usually dependent on scale. Small-holder clearing for subsistence agriculture was generally viewed favorably, while large-scale deforestation for industrial timber plantations and oil palm estates was usually seen as having negative impacts. Only a small proportion — less than 20 percent — were supportive of large-scale forest conversion, usually for palm oil development.
The study found "high awareness" of the impacts of deforestation, including "high levels of concern over higher temperatures, air pollution and loss of clean water sources."
| | |
| --- | --- |
|   | Perceptions on the Importance of Forest for Health and for Cultural and Spiritual Benefits expressed as percentages of the total of respondents' answers. |
The authors say the results could inform policy decisions, leading to reduced incidence of social conflict, which is rife in many parts of Borneo where conversion is taking place, including Sarawak in Malaysian Borneo and Kalimantan in Indonesian Borneo. It could also bolster recognition of and support for customary, community-based approaches land management.
"We did this study to be able to provide useful insights for national and local government when it comes to planning areas for development such as large scale plantations and mining because some villages are more open to this type of development than other villages," said co-author Dr. Marc Ancrenaz of HUTAN, a Sabah-based conservation group. "Seeking out lands where local community are most receptive to such plantations could significantly reduce social conflicts."
The study comes a little two years after the Indonesian government said it will "recognize, respect and protect" the rights of traditional forest users, including indigenous people, as it works to implement a program to slow deforestation. Meanwhile in May, Indonesia's Constitutional Court invalidated the Indonesian government's claim to millions of hectares of forest land, potentially forcing it to grant indigenous and local communities the right to manage their customary forests.
Land tenure issues have long plagued the forestry sector in Indonesia and Malaysia. The bulk of Borneo's forests are owned by the state, which historically has doled out large concessions — often tens of thousands of hectares in extent — to logging companies. Local communities mostly lose out, leaving some to seek opportunities from illicit timber harvesting. Without clear ownership rights to land, communities have little incentive to reject illegal logging or manage forests for the long-term. The model — which has contributed to the abandonment of traditional land stewardship in many areas — has driven large-scale devastation of the island's rich forest ecosystems. According to a 2011 study led by Jukka Miettinen, Borneo lost 5 million hectares, or 12 percent, of its forest cover between 2000 and 2010. The island's peatlands declined by a quarter over the same period.
The Borneo Futures initiative aims to reverse that trend by "changing the mindset of people that have the most influence on land use decisions and forest management" in Borneo, according to organizers. The initiative is a network, rather than an organization.
Citations:
Meijaard E, Abram NK, Wells JA, Pellier A-S, Ancrenaz M, et al. (2013) People's Perceptions about the Importance of Forests on Borneo. PLoS ONE 8(9): e73008. doi:10.1371/journal.pone.0073008
Jukka Miettinen, Chenghua Shi and Soo Chin Liew. Deforestation rates in insular Southeast Asia between 2000 and 2010. Global Change Biology (2011) 17, 2261–2270, doi: 10.1111/j.1365-2486.2011.02398.x