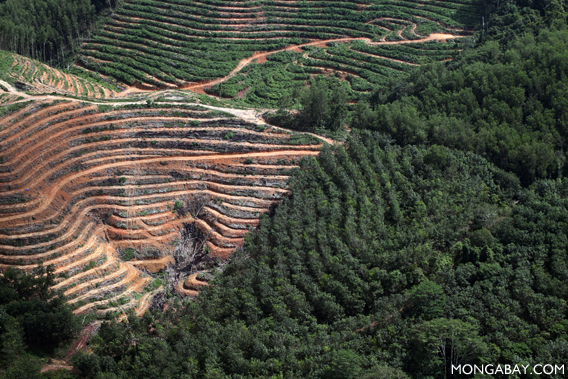 Indonesian forestry giant Asia Pulp & Paper (APP) has hired a top U.S. official to help it work through trade and environmental issues. In November, APP announced it had retained Stuart Eizenstat of Covington & Burling, a U.S.-based law firm, to help "ensure APP's trade and sustainability compliance in North America". Eizentstat's hiring is notable because he led the U.S. delegation that negotiated the Kyoto Protocol and has served in a number of high-level government positions, including U.S. Ambassador to the European Union; Under Secretary of Commerce for International Trade; Under Secretary of State for Economic, Business and Agricultural Affairs; and Deputy Secretary of the Treasury in the Clinton Administration. Eizentstat has also advocated for the adoption of forest carbon credits in a national plan to address climate change. 

In an interview with mongabay.com, Eizentstat confirmed that his team from Covington & Burling is working with APP. 
"We are engaged with APP to support both trade relations and environmental issues. There seems to be an abundance of misinformation and confusion over the economic, environmental and social issues surrounding Indonesia and companies like APP who are based there," he said. "APP is an organization of change. I am optimistic that my many years of expertise in sustainability and forestry issues, and the fact I led the U.S. government negotiations on the Kyoto Protocol, as well as helping large organizations propel their sustainability programs, will be valuable in helping APP progress." 
APP hopes Eizentstat's hiring can boost support for its "Sustainability Roadmap," which was unveiled in May and aim to address criticism of its environmental record. A range of green groups and human rights organizations have staged long-running campaign against APP for its practices, which include converting large tracts of peatlands and rainforests for industrial plantations, triggering substantial greenhouse gas emissions. Critics say these plantations have at times sparked or exacerbated conflict with local forest-dependent communities and furtherjeopardized numerous endangered species like the Sumatran tiger. These complaints have intensified in recent years as APP has sought to boost its pulping capacity, putting more forest at risk. 
 

 

APP's trade issue 

In 2010 the Department of Commerce ruled against APP, imposing anti-dumping and countervailing duties for "dumping" paper on the U.S. market at "artificially low prices" and "threatening U.S. jobs and U.S. industry 'with material injury by reason of less-than-fair-value imports of certain coated paper from Indonesia.'" Following the ruling, APP stepped up its public relations in the United States. At the same time groups like Consumer Alliance for Global Prosperity and the Coalition to Protect Virginia Jobs emerged. These groups, which aligned themselves with the Tea Party movement, criticize companies that have stopped carrying APP products and campaign against WWF and Greenpeace, both of which have pressured APP on its environmental record.

 
APP's responses to these campaigns have not endeared it to green groups. It promised to phase out logging of natural forests, but missed three self-imposed targets since 2004. APP also had a public falling-out with the Forest Stewardship Council (FSC), a timber certification body, after it failed to preserve areas designated as high-conservation value by FSC's conservation partner, the Rainforest Alliance. Meanwhile APP's critics have been targeted with campaigns accusing them of being pro-poverty and anti-Indonesia. But APP's woes have been exacerbated by its approach to public relations, which at times has included claims that are openly questioned by NGOs, including "conservation initiatives"which have later been shown to benothing more than compliance with Indonesian law or in one case, non-existent. One APP affiliate abroad was evencaught "astroturfing," or attempting to make it look like it had grassroots support behind its campaign. The troubles surrounding APP have cost it dozens of customers around the world. 
Eizenstat told mongabay he is no stranger to these critiques, but defended APP. 
"Of course, I am aware of these criticisms," he said. "Many of these claims are caused by confusion or misinformation, and some are simply inaccurate. For example, this year, an environmental NGO alleged that APP was pulping the protected Ramin tree species. This is simply untrue. In fact, in May, the Indonesian Ministry of Forestry cleared APP of all these incorrect allegations, as you can see from reports in news outlets ranging from the Jakarta Globe, to Environmental Leader, to PrintWeek. You can also see the Ministry of Forestry's clearance of APP for yourself, here." 
The ramin case 
In March, Greenpeace released a report asserting that APP had cleared ramin trees, which are listed under CITES appendix II and are therefore protected from cutting under Indonesian law. The report was based on a year long undercover investigation. 
Following the release of the report, the Ministry of Forestry said it would investigate the allegations. But Greenpeace said the ministry waited too long to start its probe. 
"The Ministry of Forestry sat on the evidence provided by Greenpeace for more than a month after we gave it to them," Greenpeace forest campaigner Andy Tait told mongabay.com. "During that time, unsurprisingly, APP cleaned up its log yards." 
In the video referenced by Eizenstat, Darori, Director General of Forest Protection and Nature Conservation at the Ministry of Forestry, made a statement saying a "preliminary investigation" had cleared APP of wrongdoing, instead implicating its suppliers for supplying ramin logs. However, the Ministry of Forestry has yet to release the results of the investigation, which closed some eight months ago. Darori — whose statement was made at an APP press conference, rather than the Ministry of Forestry — has not responded to multiple requests for comment from Mongabay-Indonesia. 
But Ministry of Forestry documents released by Greenomics, an Indonesian NGO,clearly show the presence of ramin trees in APP concessions. 
"If [Eizenstat] and the Director General of Forest Protection and Nature Conservation took the time to take a detailed look at the legal documents of APP's pulpwood plantation business plans, I am sure that they would be more careful to comment about the clearance of Ramin trees in the APP's pulpwood concessions," Greenomics Director Elfian Effendi told mongabay.com. "The legal documents show that most of APP's concession blocks containing ramin trees have been cleared… The inventory tables show that the ramin trees are in the areas that have been cleared." 
Whether or not these ramin trees were actually pulped, or merely cleared for acacia, remains unresolved. According to Greenpeace, APP recently amended its procurement policy so ramin logs will no longer be off-limits. Meanwhile in his video address at APP's press conference, Darori suggested that APP secure permits for ramin harvesting, which would effectively eliminate the issue in the future. 
For its part, APP said it would impose sanctions on the apparently wayward suppliers. But the paper giant has yet to do so publicly, according to Greenpeace's Tait. 
"Despite regularly claiming a 'zero tolerance' for illegal timber it's interesting to note that APP, whilst admitting the presence of illegal ramin logs at its mill, announced no actions against it's suppliers who brought them there. Neither has the company been able to provide any evidence of a supposed ' quarantine area' where it claims Greenpeace identified these logs." 
"Stuart Eizenstat's comments suggest that he has little intention of offering APP critical or constructive advice – he appears content to simply read straight from the company's PR scripts." 
A new plan and continuing skepticism 
Given this track record, it comes as little surprise that when APP announced a new "Sustainability Roadmap" in May, most of APP's critics were skeptical. Some thought the language actually represented a step back from previous commitments, with loopholes for ongoing use of fiber sourced through logging of natural forests. Concerns were also raised about a giant new mill slated for South Sumatra that is linked to Sinar Mas, a group of companies that includes APP and its suppliers.Independent analysis suggests that there isn't enough local plantation fiber to meet that new mill's production capacity, necessitating ongoing logging of natural forests.
| | |
| --- | --- |
|   | |
But some are hopeful that this time might be different for APP. One of these is The Forest Trust, a group that works with companies to improve the environmental performance of their supply chains. In February, the Forest Trust (TFT) began working with APP to implement and monitor a new sustainability program under APP's "Roadmap". TFT's involvement is noteworthy because in 2011 it helped Golden Agri Resources (GAR), Indonesia's largest palm oil company and under the same ownership as APP, establish a forest conservation policy that excludes conversion of land that has more than 35 tons of carbon (effectively peatlands and rainforests) and requires free, prior, and informed consent (FPIC) in dealing with local communities. The measures immediately moved GAR — which had been the target of a brutally effective Greenpeace campaign that cost it tens of millions of dollars in lost contracts — to the forefront of environmental policy among Indonesian palm oil companies. Whereas two years ago, GAR was suffering from sustained customer defections, in September there was sufficient good will or market optimism for GAR to raise $400 million via a bond offering. APP is in a similar position financially — it is seeking to raise hundreds of millions of dollars for mill expansion and plantation development. 
Eizenstat believes the same transformation can happen with APP. 
"I believe that APP is heading in the right direction, one which should be encouraged," he told mongabay.com. "It is a long road and it will not happen overnight, but it is clear that APP is sincere in its goal of becoming one of the most sustainable large paper companies in the world. I understand their difficulties in balancing the competing priorities of sustainability, legality, poverty, economic growth and development and welcome your questions as a means of beginning a dialogue that leads to a better understanding of APP and these issues." 
But Greenpeace's Tait is less optimistic. 
"APP faces a myriad of serious environmental, trade and debt problems but up to now there is little evidence of genuine reform in its practices. The hiring of yet another well connected advisor suggests that the company is more interested in throwing money at its problems to make them go away." 
Read more at: http://news.mongabay.com/2012/1205-app-lobbying-eizenstat.html#j5ukbYmGZiqDR6dz.99
For more information on rainforest destruction in Borneo, please visit: http://borneoproject.org/borneo/overview-of-current-threats